During the course of researching the Oldfield Park Juniors / South Twerton School memorial, it has been interesting to find other memorials in Bath and beyond, on which the same men are also commemorated. One notable feature of this task, however, has been the difficulty in accessing (or even finding) some of the memorials This page aims to share details of these memorials in order to aid others in their research.

I am interested in tracing/finding WW1 memorials that are known to have been erected in Bath but which are currently 'Missing in Action', as well as keeping an eye on some whose future may be uncertain. In 2015 we managed to bring back the 'lost' Pitman Press memorial, ensuring its return to Bath (from a store in Reading where it was languishing) and its safekeeping in perpetuity.

This page is a work in progress!

As ever, please do Contact me with any additional info, corrections, or with any questions!


---
Bath Central War Memorial
, Victoria Park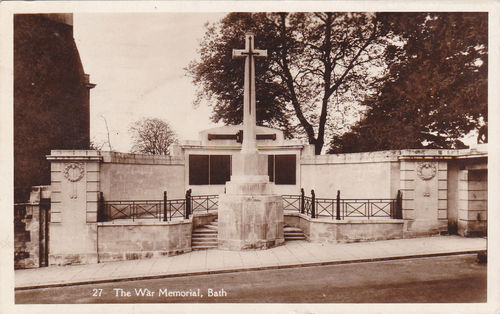 ---
Church of England Churches / Parishes
Ascension Church

, South Twerton

Christ Church

, Julian Road

Combe Down Parish (pending)


Lyncombe Parish

, originally in St Mark's church

St Andrew

, Julian Rd (no longer standing; see Walcot)

St James

, City Centre (no longer standing)

St John the Baptist

, Bathwick

St John the Evangelist

, Lower Weston


St Luke

, Wellsway

St Mary the Virgin

, Bathwick

St Matthew, Widcombe


St Michael

, Broad Street

St Peter

, East Twerton (deconsecrated)


St Philip

, Odd Down (now St Philip & St James)


St Saviour

, Larkhall

St Stephen

, Lansdown
Twerton Parish (pending)

Walcot Parish

, at St Swithin's
Weston Parish (pending)

Other Churches (RC & Non-conformist)
Places of Governance and Work
Bath Gas Works (pending)
Bath Tramways (pending)
Guildhall (pending)

Twerton Co-operative (pending)

Westminster Bank (now National Westminster), Milsom Street

Wessex Royal Engineers (pending)
4th Battalion, Somerset Light Infantry

(pending)
7th Battalion, Somerset Light Infantry (pending)
8th Battalion, Somerset Light Infantry (pending)


Bath City Football Club (pending)
Bath & Wells Diocesan Association of Change Ringers

(pending)
St John Ambulance (pending)


Please contact me if I can be of help in relation to the contents or history of any of these memorials.