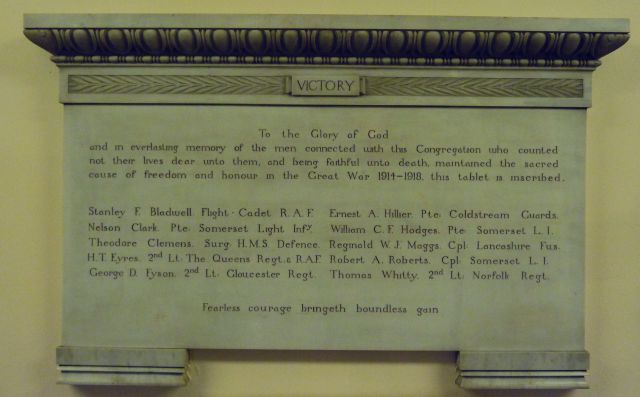 Inscription:
"To the glory of God and in everlasting memory of the men connected with the congregation who counted not their lives dear unto them, and being faithful unto death, maintained the sacred cause of freedom and honour in the Great War 1914-1918, this tablet is inscribed".
Stanley F. Bladwell (Flight cadet RAF), Nelson Clark (Private, Somerset Light Infantry), Theodore Clemens (Surgeon, HMS Defence), H. T. Eyres (2nd Lieutenant, The Queen's Regiment & RAF), George D. Fyson (2nd Lieutenant, Gloucester Regiment), Ernest A. Hillier (Private, Coldstream Guards), William C. F. Hodges (Private, Somerset Light Infantry), Reginald W. J. Maggs (Corporal, Lancashire Fusiliers), Robert A. Roberts (Corporal, Somerset Light Infantry), Thomas Whitty (2nd Lieutenant, Norfolk Regiment).
"Fearless courage bringeth boundless gain"
Argyle URC church is also home to the
Percy Chapel memorial
and individual plaques to
Reginald Maggs
and Thomas Whitty.