The original War Memorial associated with this church is the is the calvary that stands facing Bathwick Street and which was installed in 1918.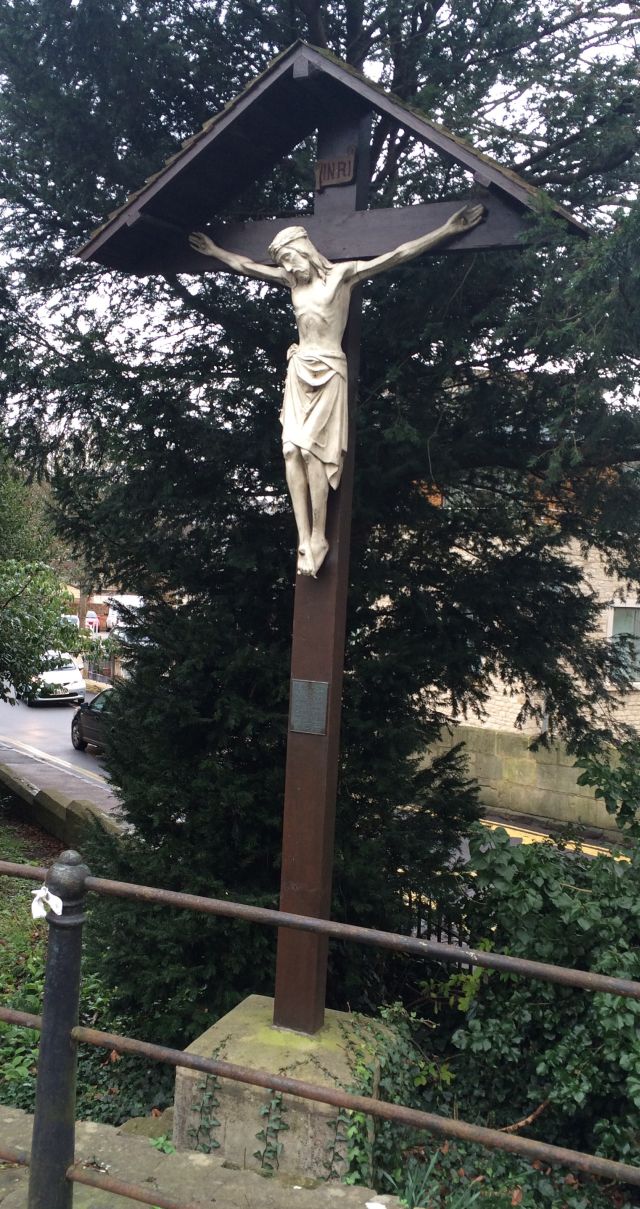 The calvary initially featured a list of names of the fallen soldiers of the parish, but in 1924 a scheme was initiated which ultimately saw a bronze plaque installed within the church which would take on the role of commemorating the man by name.

From Bath Chronicle & Weekly Gazette, Saturday 4th April 1925:


---
ST. JOHN'S, BATHWICK.
PROGRESS OF CHURCH IMPROVEMENTS.
War Memorial Now Complete.
The War Memorial has at last been completed in a worthy and satisfactory manner. A tablet commemorating the fallen by name has been placed in the church on the west wall of the chapel outside the baptistery gates, and was solemnly dedicated at Mass on the Sunday of the Patronal Festival. The tablet, which is bronze with the inscription in raised lettering, is the work of the Bromsgrove Guild. A small tablet, similar in treatment, has been placed on the shaft of the Calvary in the north-west corner of the church garden, and calls attention to the fact that the names of the fallen are recorded within the church.
---
The tablet appears to have been moved since this time and is now on a wall at the back of the body of the church.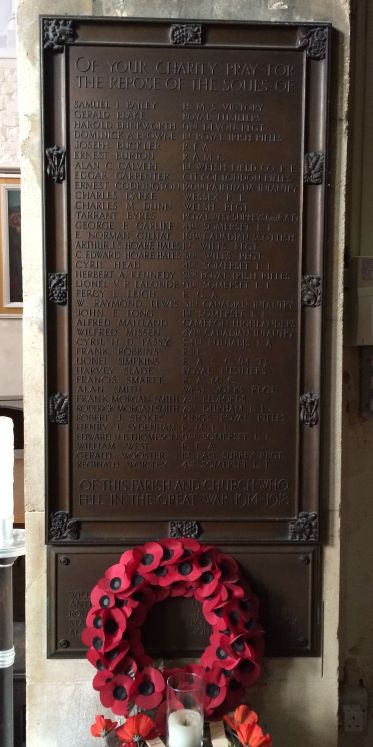 The 38 names included are:
Samuel I. Bailey (H.M.S. Victory)
Gerald Blake (Royal Fusiliers)
Harold Brinkworth (9th Devon Regiment)
Dominick A. Browne (1st Royal Irish Rifles)
Joseph Buckler (Royal Field Artillery)
Ernest Burton (Royal Army Medical Corps)
Alan C. Calvert (1st Welsh Field Company, Royal Engineers)
Edgar Carpenter (City of London Rifles)
Ernest Codrington (120th Rajputana Infantry)
Charles Darke (Wessex Royal Engineers)
Charles M. Dunn (Welsh Regiment)
Tarrant Eyres (Royal West Surreys attached Royal Air Force)
George P. Garlike (4th Somerset Light Infantry)
E. Norman Gilliat (16th Canadian Scottish)
Arthur J. S. Hoare Hales (1st Wiltshire Regiment)
C. Edward Hoare Hales (3rd Wiltshire Regiment)
Cyril Head (4th Somerset Light Infantry)
Herbert A. Kennedy (2nd Royal Irish Rifles)
Lionel V. P. Lalonde (9th Somerset Light Infantry)
Percy L. Leigh (Royal Garrison Artillery)
W. Raymond Lewis (31st Canadian Infantry)
John E. Long (1st Somerset Light Infantry)
Alfred Maitland (Cameron Highlanders)
Wilfred Missen (47th Candian Infantry)
Cyril H. D. Passy (24th Punjabis Indian Army)
Frank Robbins (Royal Engineers)
Lionel Simpkins (Royal Army Service Corps Mechanical Transport)
Harvey Slade (Royal Fusiliers)
Francis Smartt (Royal Army Medical Corps)
Alan Smith (West Yorkshire Regiment)
Frank Morgan Smith (7th Bedfords)
Roderick Morgan Smith (7th Durham Light Infantry)
Robert J. Stokes (King's Royal Rifles)
Henry J Sydenham (Royal Marines Light Infantry)
Edward H. B. Thompson (9th Somerset Light Infantry)
William West (Royal Field Artillery)
Gerald Wooster (1st East Surrey Regiment)
Reginald Worsley (4th Somerset Light Infantry)
An unusual coda to the story of the commemoration of Bathwick's war dead at St John's was provided by a Mr. Barnes, who took exception to the use of the very 'catholic' image of the crucified Christ as a public war memorial, as the following article sets out. In the 1920s, there was much greater separation, disengagement and mistrust between protestants and catholics. St John's has always been a very 'high church' or anglo-catholic centre of worship and the choice of imagery may not have been the most sensitive to wider protestant sensibilities.
From the Bath Chronicle & Weekly Gazette, Saturday 18th February 1928:
CALVARY SACRILEGE
BATHWICK WAR MEMORIAL DESPOILED
PROTESTANT'S CONFESSION
"BREACH OF SCRIPTURE AND INCENTIVE TO IDOLATORY"
Much indignation has been aroused among the parishioners of St. John's (Bathwick) Church, by the discovery of an act of vandalism intended to wreck the picturesque war memorial Calvary in the grounds.
The Calvary surmounts a thick oak cross and a deep diagonal cut by a saw, has penetrated almost half-way through the upright beam, about three feet from the base. There are marks upon the creeper, which forms a green carpet beneath, showing that it has been trodden upon by the culprit.
The memorial bears the inscription "To the Glory of God and in Memory of those who fell in the Great War, whose names are recorded on a tablet within this church." There can be little doubt that its desecration took place several days ago. Such is the opinion of the church authorities.
St. John's Church is a stronghold of the Anglo-Catholics. There have been protests by persons (from outside the parish, we are informed) against the Calvary.
A CONFESSION
A remarkable development of the affair was announced on Tuesday. Shortly after the report of the discovery of the sacrilege appeared in the "Chronicle and Herald" on Monday Mr. Ebenezer Barnes, a porter, residing at 11, Avondale Buildings, Bath, called at the Central Police Station, and later made a statement, which has been communicated to the church authorities. Mr. Barnes states that he himself sawed the upright of the Cross as long ago as January 31st.
Mr. Barnes has taken an active part in religious controversy in Bath for a number of years past.
Although Mr. Barnes states that it was on January 31st that he partially sawed through the central beam of the Cross upon which Calvary is mounted, it was not discovered until last Sunday.
"I DID IT."
Interviewed by one of our reporters, Mr. Barnes admitted that he had made a voluntary statement to the police. "I did it," he said, "at four o'clock the morning. My sincere regret is that I could not finish the job, but, having other duties at home, I was obliged to leave it to a more convenient season."
Mr. Barnes gave six reasons for what he had done:
(1) Because the Calvary is a deliberate breach of the Second Commandment and other portions of Scripture by professing ministers of God.
(2) It is incentive to idolatry.
(3) It is a feeble attempt to associate bravery on the battle field with that stupendous event enacted on Mount Calvary.
(4) It is an eyesore to all Protestant law-abiding citizens.
(5) It is a disgrace to our beautiful city.
(6) England expects every Protestant to do his duty.

"AWFUL SIN."
"I stand second to none in my appreciation of those dear men who gave their lives for their country on the battlefield," Mr. Barnes also said, "and sincerely hope that the relatives left behind will have their eyes opened and see the awful sin that has been committed by setting up a God-dishonoured crucifix to perpetrate noble deeds."
The Rev. C. E. Harris (Vicar of St. John's, Bathwick), when seen by one of our representatives, said he could not say definitely whether proceedings would be taken against Mr. Barnes. He must first consult his churchwardens.
A SUMMONS GRANTED
On Friday Mr. Frank Glover (Messrs. Glover, Son and Carter), on behalf of the Vicar and churchwardens of St. John's (Bathwick) Church, Bath, applied to the Bath City magistrates for a summons against Mr. Barnes for wilful damage to the Calvary. The application was granted, and the case will be heard next Monday.
Details of the court case were carried a week later in the Bath Chronicle & Weekly Gazette, Saturday 25th February 1928:
DAMAGED CALVARY
DESECRATION OF A CHURCH WAR MEMORIAL.
BATH MAN BOUND OVER.
Great interest was taken in a case heard at Bath City Police Court on Monday arising out of the recent attempt to wreck the War Memorial Calvary at the Church of St. John the Baptist, Bathwick. The defendant, Ebenezer Barnes, 11, Avondale Buildings, Larkhall, Bath, was summoned at the instance of Mr. F. B. Archdall, vicar's warden, for doing wilful damage, value £3 18s., to the Calvary, the property of the Rev. C. E. Harris (Vicar) and churchwardens, on January 31st. Defendant pleaded guilty.
Mr. Frank Glover (Messrs. Glover, Son and Carter) appeared for the prosecution, and Mr. T. Wills watched the proceedings on behalf of persons interested. magistrates were Sir Harry Hatt (Chairman), Miss Helen Corbett, Aid. J. F. Colmer, Major J. M. T. Reilly, Mr. P. Browning, and Alderman C. Cowley. Mr. Glover said that after very careful and anxious consideration the Vicar and churchwardens of St. John's felt they were bound to take those proceedings. The war memorial Calvary was erected by the late Vicar (the Rev. James Dunn) 10 years ago. They regretted having to take those proceedings. He understood defendant was in a humble position, and apart from his religious convictions he was very inoffensive. He had very strong and extreme religious views, but no one had any right to enforce his religious feelings upon others. Defendant admitted doing the damage to the cross on Jan. 31st, but it was not until February 12th that it was noticed by the church authorities.
FEELINGS OUTRAGED.
After a report appeared in the local paper on February 13th defendant called at the Bath Central Police Station and made a frank and full confession. He made a statement to Inspector Trim to the effect that he had been thinking about the matter for two years and at last he decided to cut the Calvary down. One of the reasons why the Vicar and churchwardens were compelled to take proceedings was that defendant had suggested that he would continue the work which he had begun of cutting down the Calvary. Defendant's religious sincerity was beyond question and he (Mr. Glover) suggested that his intolerance was almost beyond belief. The Vicar and churchwardens did not want to treat the matter lightly. The feelings of many pious people had been outraged by what had happened to a sacred Calvary erected to the memory of men who had fallen in the war. The prosecution had been taken under the mildest section of the Act dealing with wilful damage. If they had proceeded under one section defendant would have been liable to six months imprisonment. The maximum penalty under the section on which the summons had been taken out was two months or a fine of £5. The Vicar and churchwardens hoped the Bench would not impose a fine or make an order sending defendant to prison. They asked that the defendant should be put on probation and ordered to pay £3. 18s damage and the court costs. He (Mr. Glover) did not ask for legal expenses.
Evidence as to the discovery of the damage to the Calvary was given by Edward Allen, Verger St. John's
WHY HE DID IT.
P.C. Crouch said that last Tuesday he saw defendant in the Central Police Station with Inspector Trim. Defendant said, "I am still about. I have been thinking doing that job, Calvary, for two years. I got up at 3 a.m., wrote a note to my daughter, placed it in an envelope and left it on the kitchen table. I then got a little saw and went and tried to saw the Calvary down. The wood was so hard, and as time was going on I left it to a future date. I then proceeded through Bathwick Street and over Grosvenor Bridge. Going up Lambridge Street I noticed in the leg of my trousers two ivy leaves.
"I thought it ever so funny. I took them and placed them with the note I wrote to my daughter in the back of my Bible."
Witness asked him why he did it at that time in the morning, and he replied, "I am one of Gideon's brothers, and he did his work by night. Many people have asked me why I have done it and I have referred them to Isaiah, 40th chapter."
Verses 18-20 of this chapter run as follows: To whom then will ye liken God? or what likeness will ye compare unto him? The workman melteth a graven image, and the goldsmith spreadeth it over with gold and casteth silver chains. He that is so impoverished that he hath no oblation chooseth a tree that will not rot; he seeketh unto him a cunning workman to prepare a graven image that shall not be moved.
Frederick John Hanks, contractor, said it would cost £3 18s. for repairing the Calvary in the cheapest possible way.
"SHAMEFUL IDOL."
Defendant, giving evidence, said that he had received many letters, some for and some against him, but in that controversy he courted not the smiles nor feared the frowns of anyone. A gentleman, whose name he would not mention, had stated that he was sure no one in his parish had damaged the Calvary. He (defendant) had received letter from lady resident in the parish, in which she thanked him for his action and said she had longed for someone to come forward with a petition for the shameful idol to be removed.
The Clerk (Mr. E. Newton Fuller): Never about that. What have you to say in explanation of what you did?
Defendant: I am pleased to stand here to-day in defence of that Protestantism which has run parallel with our national prosperity under the mighty and merciful hand of God since the time he gave us the glorious Reformation. I stand here today charged with the partial destruction of an illegal, idolatrous image erected close to footpath of a public thoroughfare. It is a daring outrage upon the feelings of all Protestants who are worthy of the name.
NOT A PULPIT.
The Chairman: You have pleaded guilty to this offence. The justices recognise at once that you have not done this for any purpose of gain, but that you have been prompted by some feeling that you hold very strongly. There is nothing to be gained by you pursuing your present course. The only advantage that can be gained by you seems, if you desire, to offer some apology or give some assurance that this thing will not occur again, but we can't allow you to use the witness-box as sort of pulpit. You are here to meet a charge of having broken the law.
Defendant: I have one more statement. If the clergy of St. John's desire a visible, so-called aid devotion, let them remove it to the inside the church out of sight of the passers-by.
The Chairman : That is a question which does not meet this case.
Defendant: I will finish by saying, "God grant that we may not be, as nation, drawn into the deadly meshes of popery"
The Clerk: Have you nothing to say with regard to the future?
Defendant: No.
The Chairman: Do you desire to give some assurance that it shall not occur again? You are not bound to do so.
DEFENDANT'S REFUSAL.
Defendant: I don't wish to give any assurance, though I may say that if the Calvary is removed into the church I shall not attempt to touch it there. I believe it illegal for it to be where it is. It outrages the feelings Protestants of this city.
The Chairman: We understand you will not give that assurance?
Defendant: Not at present.
The Bench retired, and on returning to court, Dr. J. S. Carpenter (solicitor) said that during their absence defendant had spoken to him. When defendant was in the witness box he was considering more the religious aspect and his religious principles, but he really did not appreciate the effect of his refusal to give an assurance that he would not repeat what he had done. Defendant wished to assure the Bench that it would not occur again, and he would apologise to the extent that he did not wish to offend the views of other people. Defendant would pay the cost the damage.
A CHANGED ATTITUDE.
The Chairman said that the Bench were glad defendant had now taken up that reasonable attitude. He had really cause to be grateful to the church authorities for not having proceeded against him under another section of the Act whereby he was liable to serious penalties. There was one thing defendant probably had not fully appreciated. In that particular act of his he had not only made a protest but had—and it was to be hoped without thought—inflicted very serious pain upon relatives of those whom the memorial was erected to honour.
Defendant: Impossible, sir.
The Chairman: I am sorry you have put in that interjection, because I happen to be in a position to know the feelings of some of them. I say without the slightest hesitation that any desecration of a war memorial is very painful to the relatives. I still think that you have not properly considered this aspect or you would not have done such an act. Defendant was placed on probation for two years, being bound over in his own recognisances of £5 and one surety of £5 and ordered to pay the damage, £3 18s., and 5s. court costs.
Defendant, turning to the back of the court said, "Is there any friend in the gallery who will go surety for me for £5?"
A lady (Mrs Young of 1, Woodbine Villa, Claverton Down) immeidately rose and acceded to defendant's request.