North Somerset Yeomanry
The details of the departure of the North Somerset Yeomanry for active service is detailed in the history of Alexander Davis, although Arthur Naish's later serial number brings into question when he enlisted and first saw active service. Having attended the same school and serving in the same unit, Arthur Naish and Alexander Davis would have known each other well.
The Yeomanry was a mounted unit (distinct from the Infantry). While horses provided a huge resource in the war effort, mounted units were entirely unsuited to the conditions in many phases of the war, meaning that they were sometimes used as auxiliary personnel, drafted in as reinforcements for other units, or were re-trained for infantry or machine gun duties.
The North Somerset Yeomanry was part of 6th Cavalry Brigade in the 3rd Cavalry Division for the major part of the war. We have the War diary of the North Somerset Yeomanry for the duration of the war up until March 1918. By spring 1918, however (we don't yet know exactly when), Arthur Naish was serving with the 6th Inniskilling Dragoons, who on 10th March joined 7th Cavalry Brigade (replacing the Household Cavalry who had been retrained as machine gunners and left 7th Cavalry Brigade). Twerton War Memorial lists Victor Ebdon of Millmead Road (now Oldfield Park) who also transferred from the NSY to the 6th Dragoons and had the serial number 165630 (versus 165601 for Arthur Naish), so we can assume they joined the dragoons on the same day and served together, having lived just yards apart in Bath.
The exact circumstances of Arthur Naish's death are not clear. It is known that he died on 19th June 1918 from his wounds after 'shellburst' shattered his leg and wounded his arm & chest. We do not (yet) know exactly when or where these injuries were sustained. The 6th Dragoons appear to have been disbanded prior to this date; we need to do more research.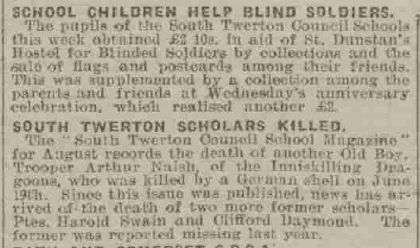 The above notices appeared in the Bath Chronicle & Weekly Gazette in July 1918. The lower item reports the deaths of Arthur Naish, Harold Swain and Clifford Daymond, while the upper shows South Twerton school families doing their bit to support wounded soldiers.