1st Battalion, Somerset Light Infantry

Reginald Maggs enlisted with the 1st SLI on 12th April 1915. the 1st SLI served in 14th Division (11th Brigade), which was a Division of Regular Army (i.e. no territorials etc.).

However, we know from a newspaper report in February 1916 that

Reginald

had not joined his regiment. He was described in the newspaper as being 'an attested man' (i.e. he had joined up), but was at that time applying to the (military) recruitment tribunal for a certificate that would delay his call-up for a month. It said he was 'Group 10' and requesting to be put back to 'Group 20'. He is described at this time as the manager of a tobacconist's shop owned by [his father] Jesse Maggs. So it's possible that, although he enlisted in 1915, he didn't actually join an active unit until circa March 1916.

We know from the following photographs supplied by

Reginald

's nephew, Malcolm Curran, that

Reginald

was at a training camp with the Somerset LI in what appears to be the summer of 1916: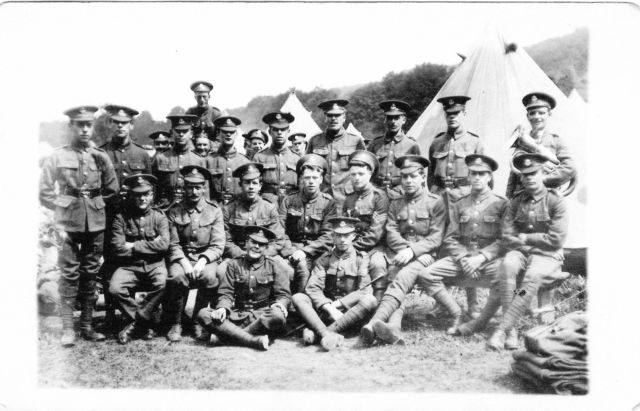 Reginald

is in this photo, but it is hard to pick him out
[Photo supplied by Reginald's nephew Malcolm Curran]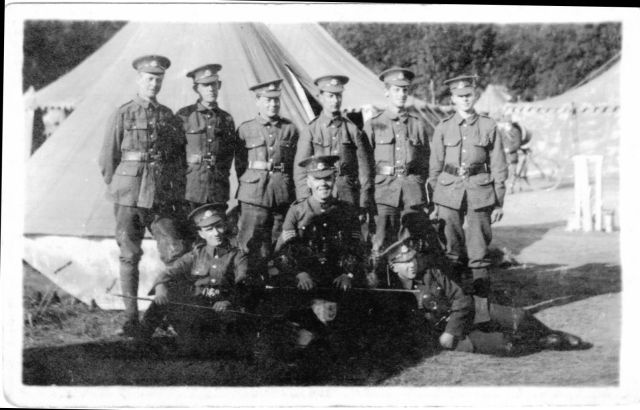 Reginald Maggs

is standing, third from the left
[Photo supplied by Reginald's nephew Malcolm Curran]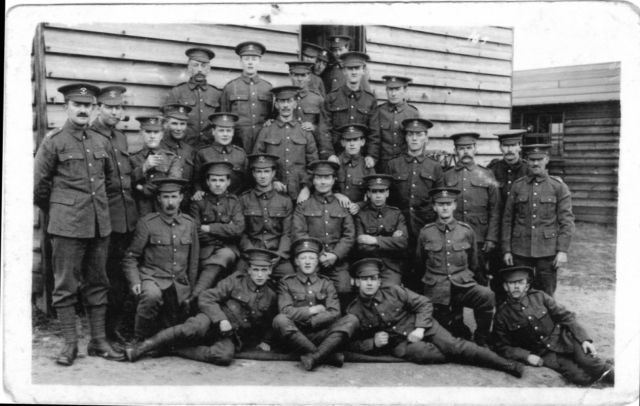 Reginald Maggs

is fifth from the left in the middle row
[Photo supplied by Reginald's nephew Malcolm Curran]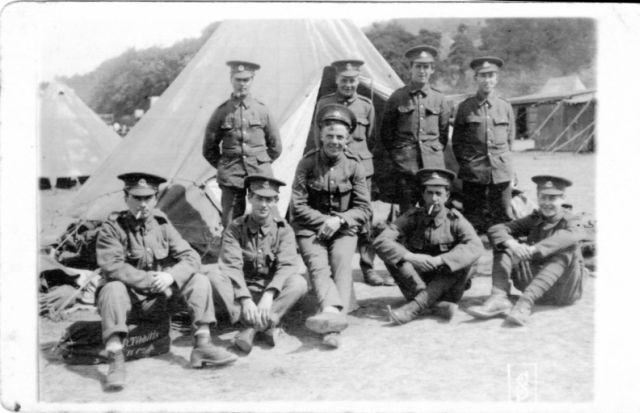 Reginald

is standing in front of the tent opening

[Photo supplied by Reginald's nephew Malcolm Curran]

Middlesex Regiment
At some point,

Reginald

transferred - probably still within the 14th Division - to the Middlesex Regiment (10th Brigade?), where he was a Lewis Gunner. The Lewis gun was a novelty in WW1 and was the first effective light machine gun. It had a circular cartridge on the top and a large shroud around the muzzle, which housed aluminium fins designed to take the heat away.

This was the kind of gun that could be carried by one man, although it was usually operated by a team of between two and six men, as the cartridges required manual loading and any technical problems could require a quick strip-down and rebuild under difficult conditions. Moving around also necessitated support personnel to carry ammunition etc.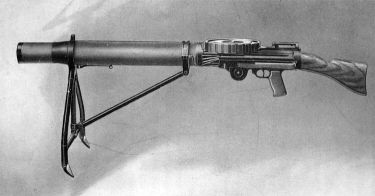 The Lewis Gun

[Photo:

allworldwars.com

]


The Lewis gun was largely employed in the front line, to cover advances or to repel an attack. The gun was much more mobile than a larger, fixed machine gun emplacement.

We know that Reginald was with the Middlesex Regiment in Kent from the autumn of 1916 through until at least the spring of 1917, from where he sent postcards to his sweetheart Mabel Russ, back in Bath. These postcards are in the possession of the family and reveal the neat handwriting and sense of humour of an educated young man.

Reginald served with the Middlesex Regiment until September 1917, at which point he transferred to:
2nd Battalion, the Lancashire Fusiliers
Reginald Maggs' serial number of 47244 could be used to corroborate his date of joining this regiment, which was in 12th Brigade / 4th Division.
The unit diary for 2nd Battalion the Lancashire Fusiliers is available from the National Archive and we have a copy on record. Please get in touch if you would like more details than are shown here.
Having joined 2nd Lancs in September 1917, we know that Reginald would have been with them through the following engagements, some of which rank among the worst battles of the war, in terms of human loss and of the conditions in which the men had to survive:
1918
On 1st January 1918, Reginald was commended for his 'good work and devotion to duty' by Major-General Torquhil Mathison, who commended 4th Division.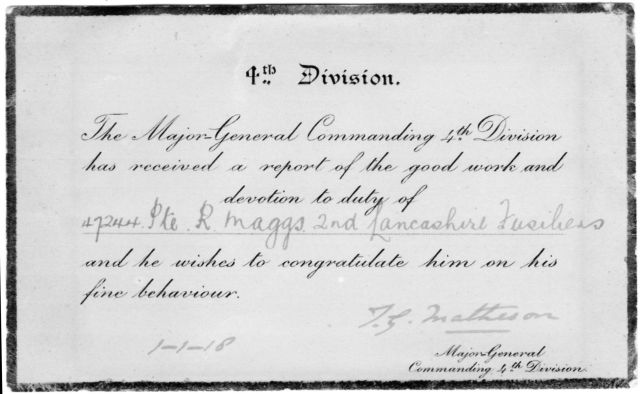 The beginning of 1918 saw Reginald's battalion in 'Monchy sector' (Monchy-le-Preux), alternating between front line duty and reserve work.

On 11th January, the Battalion was relieved in the front line by the 1st Battalion of the Somerset Light Infantry – Reginald may well have recognised some Bathonian faces – which was part of 11th Brigade (also in 4th Division). At this point 2nd Battalion Lancs Fusiliers moved back to Arras for a few days' training.

2nd Bn Lancs Fusiliers were in action again at Wilderness Camp from 16th January until 5th February, going through reserve and support functions and headquartering somewhere called Fosse Farm. They relieved the 1st Bn, King's Own Royal Lancashire Regiment (K.O.R.L.R) in the front line in 'Brown Line' on 23rd January, before they themselves were relieved on 27th.

They were again in the front line from 1st-5th February and on 6th moved via Arras to Bernaville (W of Arras). They remained at Bernaville for the remainder of February and until 11th March, mainly engaged in training. Battalion church parades, a field day, work at a shooting range and a boxing competition are all mentioned as battalion activities during this time away from the front line. The battalion remained in Bernaville until 11th April when they moved to Baudimont Barracks, Arras. They remained in billets in Arras until 18th, then relieved 1st Battalion the Scots Guards (Guards Division) at Stirling Camp.

Reginald's battalion was in the line from March 19th in reserve and support functions. Then, on 28th March, while in Brigade support at Lemontr(?) there was significant fighting. From the War Diary of 2nd Battalion, Lancs Fusiliers:

28th March 1918

Enemy bombardment commenced. Very heavy. Three separate barrages on Front, Support & Reserve lines and on the open between. Continued till 7am when enemy launched a big attack. Front line held out till practically wiped out. 'A' company, in close support to front line battalion, was completely wiped out after a tremendous fight. The Battalion stopped the enemy from advancing beyond the front and close support trenches. 'D' company suffered fairly heavily, 'B' & 'C' company lightly. Battle continued till the middle of the day. Enemy stopped in our support line after suffering heavy casualties. Our casualties were:

Killed: 2 officers, 16 other ranks

Wounded: 2 officers, 87 other ranks

Missing: 1 officer, 120 other ranks

The scale of losses also gave rise to this entry on 29th March:

Battalion absorbed the remains of the Essex Regiment into their strength and became front line battalion.

They were relieved on 31st by the 1st K.O.R.L.R.

April 1st saw 2nd Lancs Fusiliers in support to the 1st K.O.R.L.R., who they relieved on 2nd April. They held the front line in an 'unchanged situation' until relieved by 7th & 8th Battalions of the Canadian Infantry.

On 8th April, the Battalion withdrew from the line to billets at Simencourt for 'cleaning up and reorganising', then on 21st were taken 40 miles north by bus to Busnes, where they slept in bivouacs by the side of the road on arrival, before taking billets the following day.

On 16th, the Battalion moved to where Reginald's war ended, namely at Riez du Vinage, where they relieved the 1st Bn the Hampshire Regiment and remained in trenches until 24th. On 18th April they were instrumental in repelling a German attack (before breakfast!) in what is known as the 'Battle of Bethune' (part of the 'Battle of the Lys'):

1am: Enemy artillery began bombarding back areas and roads through Robecq and Riez du Vinage.

3am: Enemy bombardment very heavy.

3.45am: Enemy bombardment intense. SOS sent up by 1st King's Own (Royal Lancashire Regiment) on our right. Battalion HQ in telephone communication with centre & left companies. Battalion HQ sent up SOS in response to call from companies. Artillery put down barrage on SOS lines. Learnt later from prisoner that they were caught by this barrage and attack stopped on Bn front. Companies reported OK 4am.

4.25am: Enemy shelling slackened

5.0am: Enemy shelling ceased.

7.0am: 'B' company report that enemy attack their right Lewis gun post and was driven off leaving about 20 dead.In touch with 1st King's Own. Centre company observed movement in front of their line and sent a patrol who returned with prisoner.

7.30am: Situation unchanged and quiet. Remainder of daylight was quiet.

8.15am: Small enemy attack on the Bn on our left and the King's Own counter-attacked and recaptured Riez du Vinage which they had lost in the morning.

Casualties: 4 other ranks wounded. 6 prisoners of war.

Things were relatively quiet in the ensuing days, but 23rd April saw another deadly encounter:

3am: 'D' company and one platoon of 'A' company under Lt N.D. Evans assemble to attack.

4.30am: Zero hour. Artillery barrage opened. Objective is road Q20b 7.0 – Q27a 0.8.

7.30am: Objective reported reached. Eventually turns out attacking troops lost direction and left a gap between La Pierre - Au Bierre and Riez du Vinage. [??] try to conform to this and several officer casualties from sniping. Enemy artillery bombarded new line all day and enemy sniping very active. Line withdrawn after dark.

Casualties: 2 officers killed, 3 officers wounded. 1 officer missing wounded. 48 other ranks killed, 120 OR wounded, 58 OR missing. Prisoners of war: 40 and 2 light machine guns.

On 24th they 'straightened out the line' and were then relieved on 25th back to Gonnehem. There they were shelled while in billets.