Royal Army Medical Corps
Reginald Giddings' military records are some of the few to survive - albeit somewhat damaged around the edges and by water. Many such records were destroyed in bombing in World War 2.
His records allow us to piece together a very detailed record of his service, as far as the condition of these antiquated documents (and the deciphering of the handwriting!) will allow.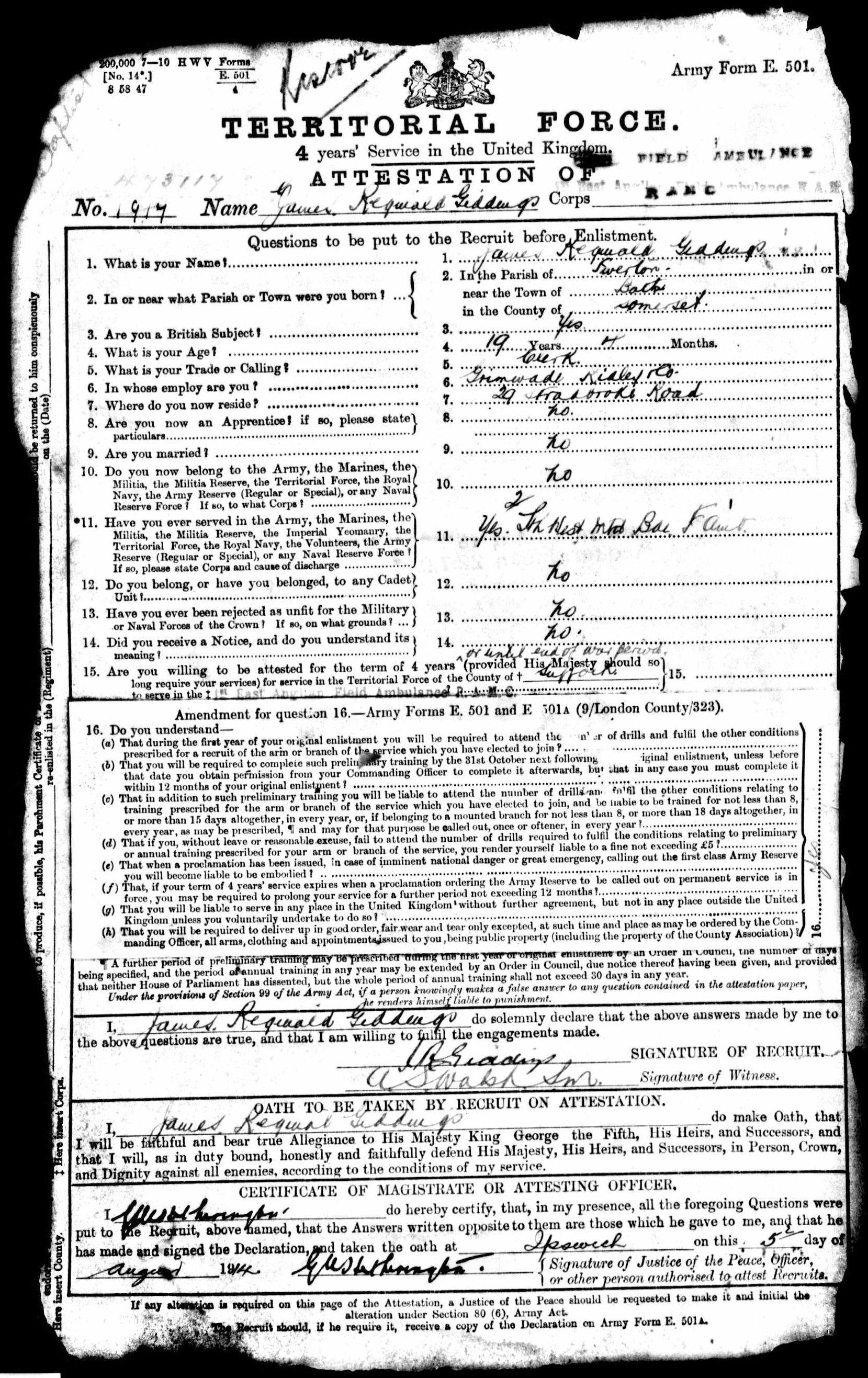 As his Attestation shows, Reginald joined up at the outbreak of war on 5th August 1914 at the age of 19 years and 4 months. He signed up in Ipswich to the Royal Army Medical Corps. Importantly, he signed 'James Reginald Giddings', which leads us to believe that he was perhaps known by his second given name.
Also of interest is that he stated having previously served with the '7th South West Mounted Field Ambulance'; this would clearly have been during his time in Bath, showing that he was probably already a reservist (or had recently been so) at the outbreak of war, hence his speed in joining up. There is also a medical link with his father having been a member of St John Ambulance.
He was 5 feet 9½ inches tall, with 'normal' vision and 'good' physical development. His address was given as 29 Stradbroke Road.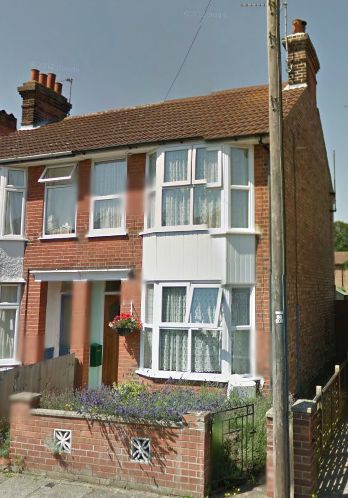 29 Stradbroke Rd, Ipswich
On 3rd Dec 1914 he signed a form agreeing to service 'in any place outside the United Kingdom' (this was not a 'given' if a soldier had originally joined up to a Territorial unit), although he remained in Britain until 20th March 1915
Reginald was originally listed as Private 1917 with the 1st (Reserve) East Anglian Field Ambulance R.A.M.C.T. (probably the Territorial (T) section of the Royal Army Medical Corps). Later records also use the serial number Private 473117.
The operations of Reginald's unit, from the Wartime Memories Project (http://www.wartimememoriesproject.com/greatwar/allied/ramc88fldambl-gw.php) are in italics below, interspersed with the details provided by his personal records:
88th (1st East Anglian) Field Ambulance, Royal Army Medical Corps served with 29th Division. The Division was formed in late 1914 from regular units arriving home from the most distant garrisons of Empire, having been replaced by Territorial units. The new division concentrated in the Stratford / Warwick / Leamington / Rugby / Nuneaton area in the first three months of 1915. They were training for France when orders arrived to prepare to depart for Gallipoli. They embarked from Avonmouth between the 16th and 22nd March 1915 sailing via Malta to Alexandria then on to Mudros in April.


Mediterranean
Reginald's

records show that he served abroad with the British Expeditionary Force in the Mediterranean from 21st March 1915; this ties in with the dates above.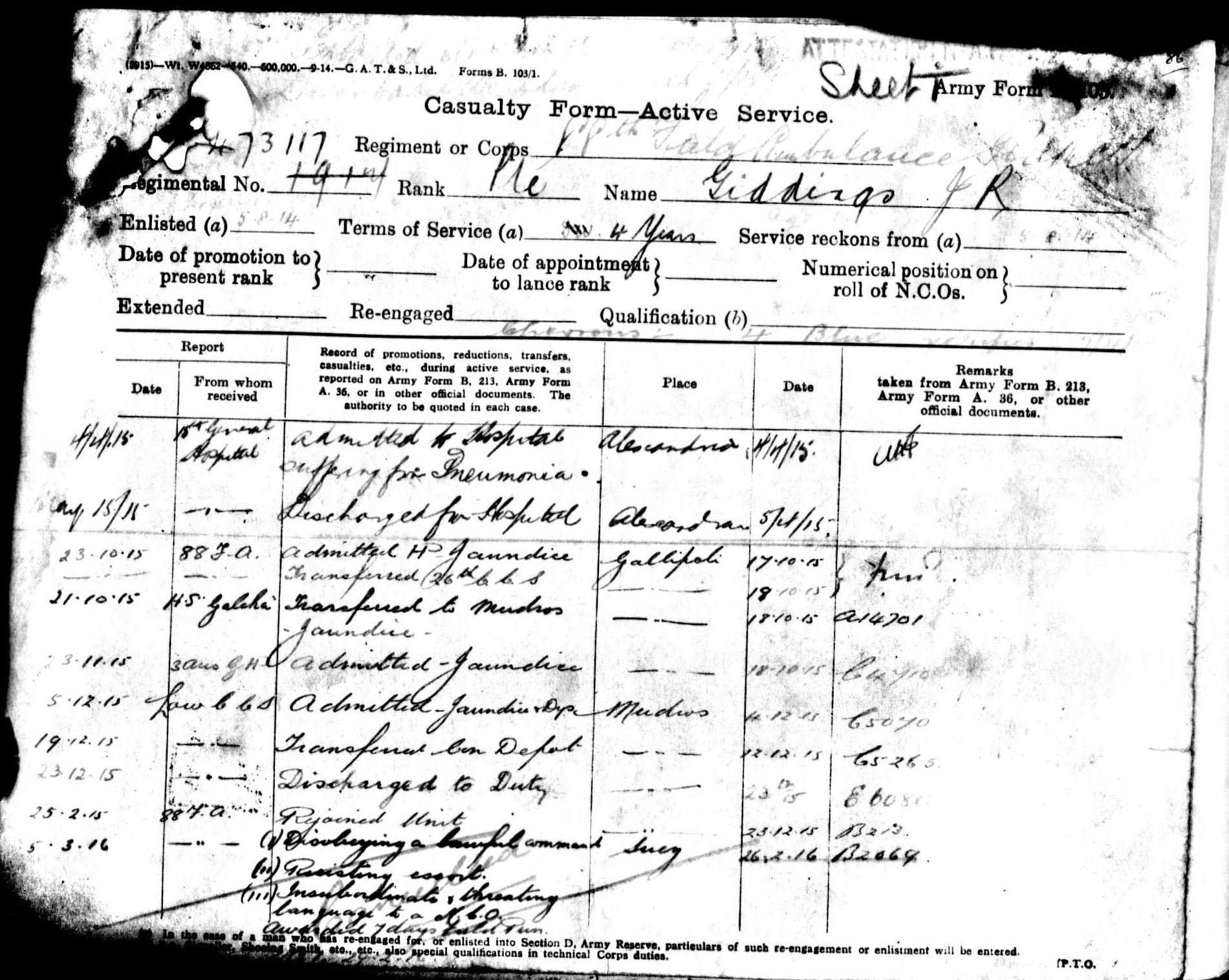 Reginald was admitted to the 15th General Hospital in Alexandria on 4th April 1915 suffering from pneumonia. On 15th May he was discharged. This appears to mean that he was not involved with his unit in the following action:

They landed at Cape Helles, Gallipoli on the 25 April 1915 and were involved in heavy fighting until the evacuation on the nights of the 7th and 8th of January 1916 when they returned to Egypt.

On 17th October 1915 Reginald was again hospitalised – this time with jaundice – with the 88th Field Ambulance (his own unit) in Gallipoli and on 18th he was transferred to 26th C.C.S. (casualty clearing station) and thence, it seems, to Mudras (now usually 'Moudros' on the Greek island of Lemnos). On 12th December he was transferred ['bon Depot'?] and then on 23rd December he was discharged back to duty and rejoined his unit.

On 5th March 1916, records show

Reginald

in trouble on three counts:

1. Disobeying a lawful command
2. Resisting escort
3. Insubordinate and thratening language to a N.C.O.

He was awarded 7 days' total punishment, but there were soon other things on which to focus the mind:

In March 1916 they were sent to France, sailing to Marseilles and travelling by train to concentrate in the area east of Pont Remy by the end of March.


France
Reginald's records show that on 11th March 1916, the unit embarked at Port Suez for a voyage to join the British Expeditionary Force in France, disembarking on 23rd March in Marseilles.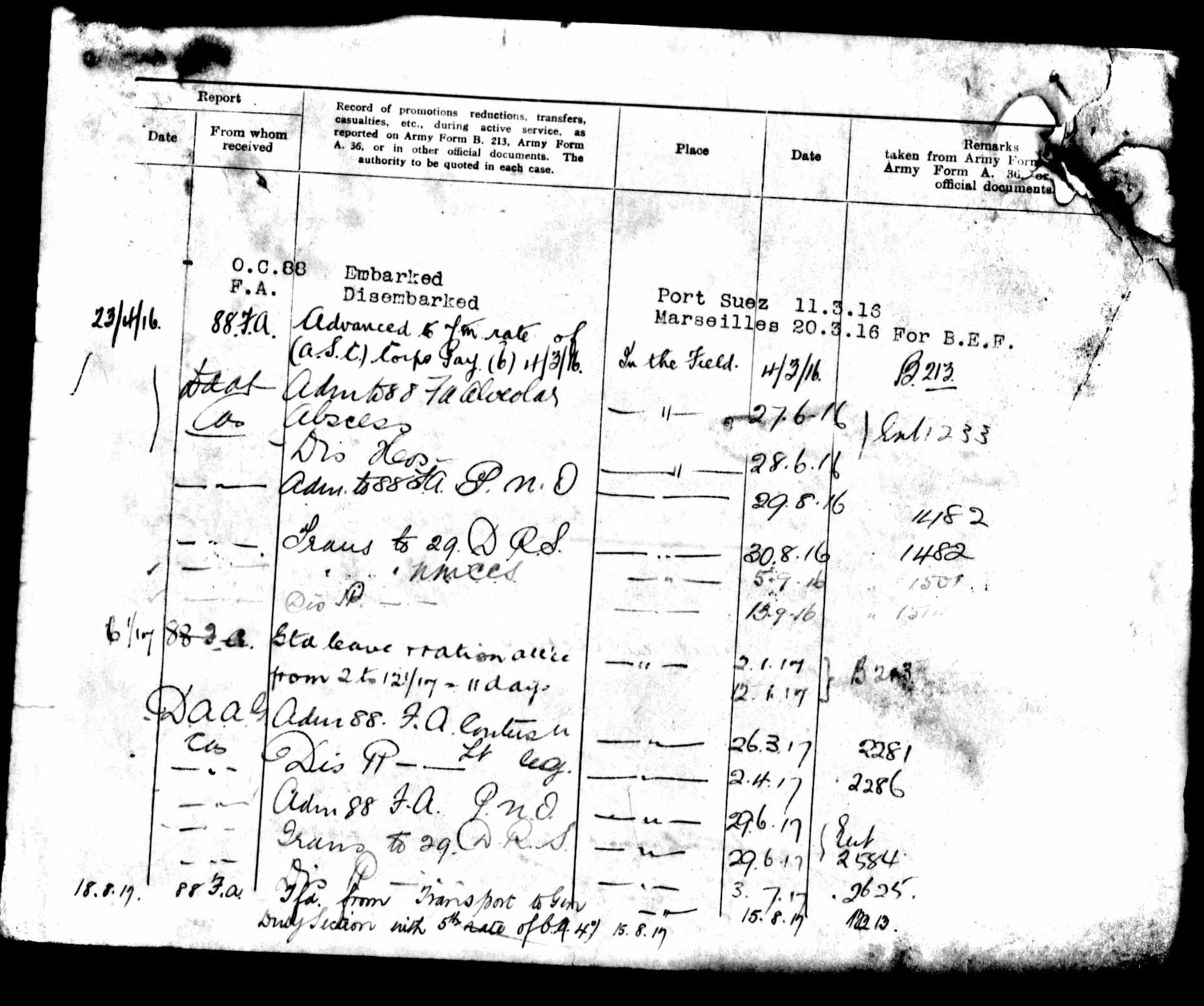 On 27th June, Reginald was admitted to 88th Field Ambulance Alveolas [?] with an abscess and discharged the following day.
In July they went into action in the Battles of the Somme.
On 29th August he was back in 88th Field Ambulance with 'P n O' [?] and transferred the following day to 'D.R.S.' [?]. On 5th September he was transferred to N.M.C.C.S. [a casualty clearing station] before being discharged once more on 15th September.
2nd January 1917 saw Reginald given 'standard leave and ration allowance' for 11 days. 26th March saw James admitted to 88th Field Ambulance once more with a contusion of the left leg, discharged on 2nd April.
In 1917 they were in action in the The First, Second and Third Battle of the Scarpe [April & May 1917] during the Arras Offensive
Reginald was admitted to hospital again 29th June with 'P.n.O.' [?] and transferred the same day to D.R.S. [?], then discharged on 3rd July. On 15th August, James was transferred from Transport to General Duty Section.
[The unit] then moved to Flanders and fought in the Battle of Langemarck [16th-18th August], The Battle of Broodseinde [4th October] and The Battle of Poelcapelle [9th October], before moving south for The Battle of Cambrai [20th November – 7th December].
Following the Battle of Cambrai, James was granted leave and ration allowance from 7th – 21st December 1917 (15 days).
In 1918 [the unit was] in action in The Battle of Estaires (9th-11th April).