Reginald Crocker was the youngest child of Alfred Crocker & Ada Jane (née Vanstone).

Alfred Crocker
Alfred Crocker was the son of a boot & shoe maker from Magdalen Street in Glastonbury, which forms part of the market place in the centre of the town. Alfred's father died in 1870 (when Alfred was just 8) and his mother Sarah took over the running of the shop, as shown in the 1871 census.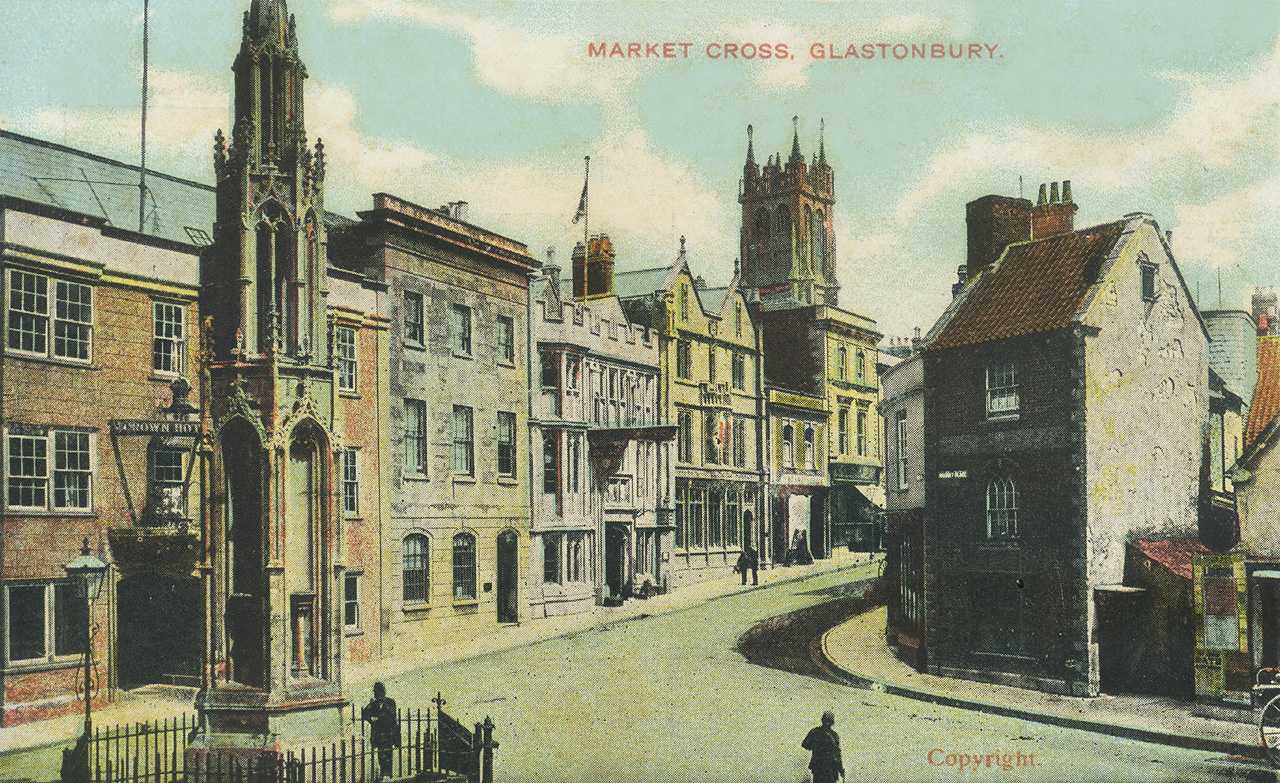 The Market Place in Glastonbury. Magdalene Street, in which the Crocker family had its boot-making business, leads away to the right.


By 1881, following the death of Alfred's mother, his elder brother William had taken on the family business. Alfred himself was an apprentice cabinet maker, perhaps linked to the cabinet-maker next door who was listed as employing two apprentices.

At some point we must assume that Reginald's father came to Bath, perhaps for work.

Ada Vanstone

Reginald's mother's family, the Vanstones, were a colourful family. Ada Vanstone's grandparents, James & Mary Ann Vanstone, lived in Somerset Street in Bath (down the side of what is now the Bath City Church at the Forum) and were occasionally featured in the local newspaper in relation to petty cases before the Police Court. In 1852, for example, it was (Mary) Ann who was being charged in relation to a bout of abusive shouting in the street. It seems they ran a 'lodging house', as they sometimes had public quarrels with their own lodgers. In one case, in 1855, a lodger is charged with having stolen items from her room upon moving out. Interestingly, the report of that event mentioned that both James & Ann were at that time in prison. A later report (1857) of both James and Mary Ann being summoned for threatened assault potentially explains this:

Bath Chronicle & Weekly Gazette, 17th September 1857

James Vanstone and Mary Ann Vanstone, who were sometime since prosecuted and imprisoned for keeping a brothel, were summoned by Joseph Mansfield for threatening to assault him. The complainant, who is a very old man, stated that, on Friday night, between 9 and 10 o'clock, he was in Somerset Street smoking his pipe. Mrs Vanstone was standing at her door, No. 7, and on seeing him she went up to him and said, "You false swearing rascal, what are you standing there for? I'll cook thy goose for thee some day. You wicked old man, you'll never die a natural death. You have been watching my fine ladies, and I cannot carry on my business for you." Her husband, James Vanstone, then came up, and holding up a stick, said he would knock his brains out." Witness further stated that he considered his life was in danger. There was also a cross summons, in which Mr. Mansfield and his wife were charged by Mrs. Vanstone with threatening to assault. Mrs. Vanstone stated that on the same day during the above quarrel Mr. Mansfield threatened to do for her, and serve her as he had done before. Mrs. Mansfield also called her very disgraceful names, and said she should like to trample her under her feet. Mr. Falkner, the magistrate's clerk, asked where the police officers were all this time? Mrs. Mansfield said the police never went near their premises, and Mrs. Vanstone admitted that whenever she wanted the services of the police she could never find one. The magistrates, Messrs. Kitson and Smith, after some consultation, decided to bind over all the parties on both sides. Mr. Vanstone and Mr. Mansfield in £10 each; and Mrs. Vanstone, and Mrs Mansfield in £5 each, to keep the peace for three months.

The court cases of those times certainly give an interesting insight into the types of punishments meted out for different offences. It seems that punishments for theft or criminal damage were much more severe than for crimes against the person. When lodger Eliza Curtis was charged with having stolen a sheet from James Vanstone in 1857, she was found guilty and given three months hard labour!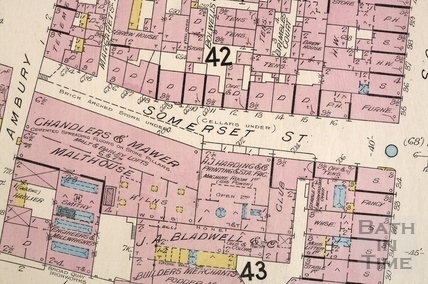 A 1902 map of Somerset Street, which used to run between the Ambury and Southgate Street and which was dominated by the large maltings at the western end. The properties marked 'D' on the northern side were dwellings. The area was altered significantly when St James Parade was continued southwards, slicing through the area in the upper part of this map, over which the Forum cinema was also built. The photograph below (essentially looking from the point of view of the blue dot on the map) shows Somerset Street prior to the building of the Forum cinema, but with the maltings still in existence.
[Images:
Bath In Time
]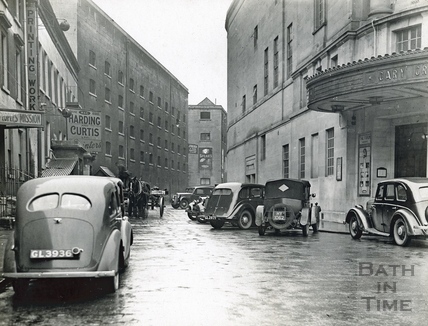 But James and Mary Ann Vanstone were not always on the same side of the battle lines:
Bath Chronicle & Weekly Gazette, 28th February 1861
Using Threatening Language
James Vanstone, apprehended under a warrant, was charged with using threatening language towards his wife, Mary Vanstone, and putting her in bodily fear, on the 20th inst. The prisoner, it appeared, came home drunk, and told his wife to prepare for death, as he intended to beat her brains out, at the same time flourishing a poker over her head. Ordered to find bail to keep the peace for a month.
Ada herself also grew up in Somerset Street. Her father (called Ascott James Vanstone but known as James) was a saddler, like his father before him and the family also took in lodgers. The 1871 census shows that the lodgers were all men (perhaps through circumspection, following the family's previous misdemeanours), including one Carlo Casenaghi, a musician from Milan.
But in 1877, Ada's parents were seen to be continuing the family's relationship with the long arm of the law:
Bath Chronicle and Weekly Gazette - Thursday 18 January 1877
SATURDAY. Before Lieutenant-Colonel Ford (in the chair), Rear-Admiral von Donop, Mr. Marshall, and Mr. Savage. Ascott James Vanston, and Sarah Vanston, of Somerset-street, were summoned for assaulting Leah Potter, hawker, of 6 Corn-street, on the 9th inst. The complainant said she owed the defendants 6s. for rent, and on the day named was visited whilst getting dressed, by Mrs. Vanston who said, "How about the rent?" Witness replied that she should have it but that she should come for it in a civil manner. Mrs. Vanston then took up witness's dress, but, after a struggle, she was obliged to give it up. She then threw the contents of a bucket and a basin over her and tried to strike her with the bucket but complainant protected herself with a shovel. Mrs. Vanston then sent for her husband, who took hold of witness roughly and told her to go out of the house. The complainant's story was corroborated by two fellow lodgers. Mr. J. K. Bartrum, who appeared for the defendants, contended that the story was hatched up by the complainant and her witnesses, who had received notice to quit their lodgings. There was a scramble about some clothes in the bucket but there was no pretence for saying that Mrs. Vanston threw water over the complainant. Mrs. Potter was summoned for assaulting Mrs Vanston, who said that when she went to the house she received a good deal of abuse from the defendant, and threatened to have the room emptied as a consequence. Whilst she was removing a bolster, defendant struck her a blow on the side of the head, and witness only took the bucket to defend herself from the defendant, who had a shovel in her hand, and broke it in the affray. The magistrates fined Vanston 7s. 6d. and costs, and his wife 5s. and costs, and dismissed the other summons.
Then, in 1882, the newspaper carried a sad story about how Ada's younger brother had drowned in the River. From the census entries in 1861 and 1871, a picture emerges of a family with Ada as the eldest daughter, then a sister two years younger (Amy, born in London). The next child for whom there is any record is Ernest James, who is the feature of the article below:
Bath Chronicle and Weekly Gazette - Thursday 25 May 1882
Sad Death of a Boy.
At the Guildhall, on Saturday evening, Mr. A. H. English, city coroner, held an inquiry concerning the death of Ernest James Vanstone, four years of age, son of Mr. James Vanstone, harness maker, 6, Somerset-street. According to the statement of John Thomas Garrett, a little boy, he and the deceased were playing on the Old Quay, about three weeks ago. They were amusing themselves by throwing stones at some ducks, when deceased fell in and was drowned. This witness informed the coroner that four men were near at the time, but did not attempt to rescue the unfortunate boy. Robert Comley, Chapel-row, Weston, an employee at the Midland Saw Mills, gave evidence as to finding the body in the river, near the saw mills, early that (Saturday) morning. P.C. Richards said on the 6th instant he was on the Old Bridge when he heard cries and saw something in the water a distance off. He and another officer hurried to the spot, but before they arrived the deceased had sunk. They dragged the river, but were not successful in recovering the body. The father of the deceased having given evidence as to identification, the jury returned a verdict of "Accidentally Drowned."
The couple had another boy who they also called Ernest James, before further children Alice & Herbert were born.
Back to Reginald's mother Ada: In the 1881 census, she was listed as a 'pupil teacher', i.e. in training to become a teacher.