In 1895 Constance, the last of the children, was born.
In 1899, Reginald's eldest sister Florence married (aged 23) and moved away to Walsall, where the first of her children was born the following year, thus making Reginald an uncle. He became an uncle a second time in 1901 when third-eldest sister Rose (then 20) produced a son 'out of wedlock', which was not the 'done thing' at the time.
This led to a curious situation uncovered by the 1901 census, whereby Rose was one of a pair of servants working for a surgeon and his wife at 46 Combe Park (near the current RUH, but there was no hospital there at this time), while her one-month-old son Ernest was to be found at Brook Cottage in Batheaston in a household headed by a Mr & Mrs James Cambourne (baby Ernest listed as a 'boarder'!). So far, a family connection between the Cambournes and Rose Brock has not been found, so this situation seems very unusual. The Cambournes had not adopted Ernest, however, as he is later shown living with Rose again. Brook Cottage in Batheaston is in School Lane and James Cambourne (aged 50 in 1901) was a maltster, so apparently not a wealthy benefactor.
The other key event in 1901 for 10-year-old Reginald was the family's move to 7 Claude Avenue, on the corner with the lane down to Claude Vale.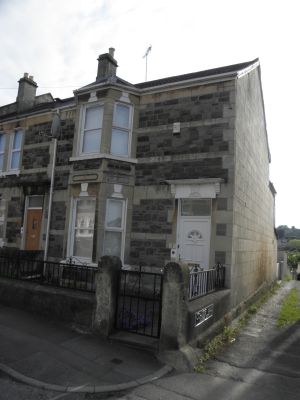 7 Claude Avenue
In 1903, Reginald's second-eldest sister Sarah married Robert Horler of Kilmersdon. They had one child in Bath and then moved north to Burnley, where later children were born. And it is with Sarah & Robert in Burnley that the 1911 census reveals that Rose and her son Ernest were reunited and living together. It is easy to imagine the birth of Ernest having been somehow 'hushed up' in Bath and the move north engineered to give Rose and Ernest a new start together.
Reginald, meanwhile, would have left school in around 1903 and there is a gap in what we know about him in the period before 1911. He is to be found on the 1911 census in Radstock, living as a 'boarder' in Carlingford Terrace, near the railway station. This is significant as Reginald seems to be following his father's career path and is listed as a 'railway engine cleaner'. Trains serving the mines of the Somerset coalfields would probably have returned to Radstock North sheds at night and the Somerset & Dorset railway would have needed engine cleaners there.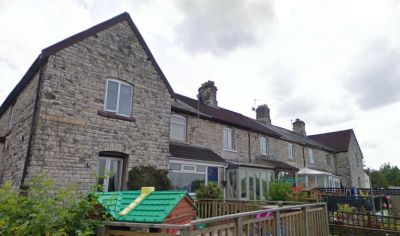 Above: Houses in Carlingford Terrace, Radstock, where Reginald was living in 1911.
Back in Bath, the dwindling family unit around parents John & Annie moved several times in quick succession; first to 41 Second Avenue (1912) and then in 1913 to '1 Livingstone Villas' (renumbered in 1914 as 128 Lower Oldfield Park, which is the last house before the railway bridge over to Brougham Hayes).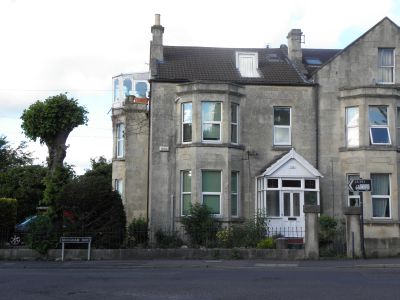 128 Upper Oldfield Park, where Reginald's parents lived from 1914.