Horace's father Thomas progressed to working as an 'engine driver' at around this time. It is well documented that engine drivers enjoyed an extremely high status in this era and the step up from 'fireman' was a significant one. On main line duties, a train crew could end up many miles from home at the end of the day and were forced to sup and sleep in railway company hostels and lodgings. Despite the close teamwork on the footplate, drivers and firemen would sit at different tables to eat and hostelries sometimes even had separate bars for drivers.
It isn't clear whether Horace's father worked on the GWR or the Somerset & Dorset railway; the latter line passed within a few yards of the Bradley home and indeed not far from the school; it is now known as the Linear Park or Sustrans 'Two Tunnels Greenway'. It's interesting to think that Horace might have heard the whistle of his father's train from the schoolroom!
Horace's two sisters Helen Annie Hayes Bradley and Kathleen Seward Bradley arrived in 1897 and 1901 respectively. Helen, named after her paternal grandmother, also bore her mother's maiden name of 'Hayes' as a given name; Kathleen bore her father's middle name of 'Seward'; perhaps also an earlier family surname that was preserved in the same way. Kathleen died in 1902, however, before reaching her first birthday.
Swindon
Around 1905, the family moved to Swindon, home of the Great Western Railway, but Thomas' employment on the railways did not continue. They lived at 343 Ferndale Road in the north of the town. The 1911 census shows Thomas as a builder and Emma as a draper.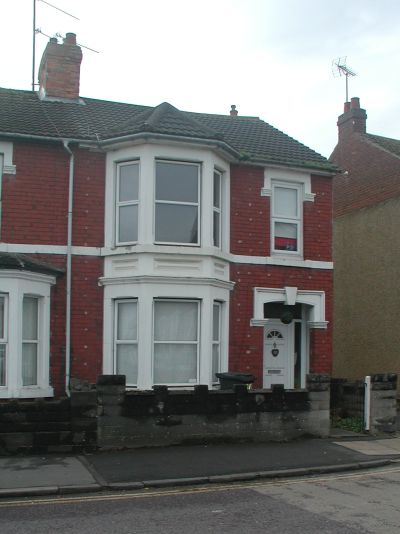 343 Ferndale Road, Swindon
Thanks to James Turner of Swindon for supplying this photograph.
Mr Turner's mother was born in this house in 1927.
After 1917, Swindon directory entries show the household at 225 Ferndale Road, with Thomas now a 'shopkeeper'; it's possible that this was a draper's shop.